Covid-19 Safety Protocols
For the latest information, visit SoFi Stadium. 
Gameday Schedule
Tailgate parking (Pink Zone) opens: 5 hours prior to kickoff
All parking lots open: 4 hours prior to kickoff
All Entries open: 2 hours prior to kickoff
Pre-game show begins: 1 hour prior to kickoff
*The Equipment Room team store can only be accessed inside the stadium after the doors open on game days.
Get to the stadium early!
Even though most NFL games are on Sundays, the traffic in Los Angeles can be a nightmare at times (on weekdays, traffic starts around 2:00 p.m.). With nearly 70,000 spectators in attendance, it can get congested right before the game around SoFi Stadium.
It is best to plan to arrive 4 hours before kickoff when the general parking lots open, or at least 3 hours before.
Go to "Plan Your Visit" 
What's around SoFi Stadium?
"Ok, so how do I kill time until the doors open?"
While waiting for the doors to open, there are some options for you to have a good time around SoFi Stadium.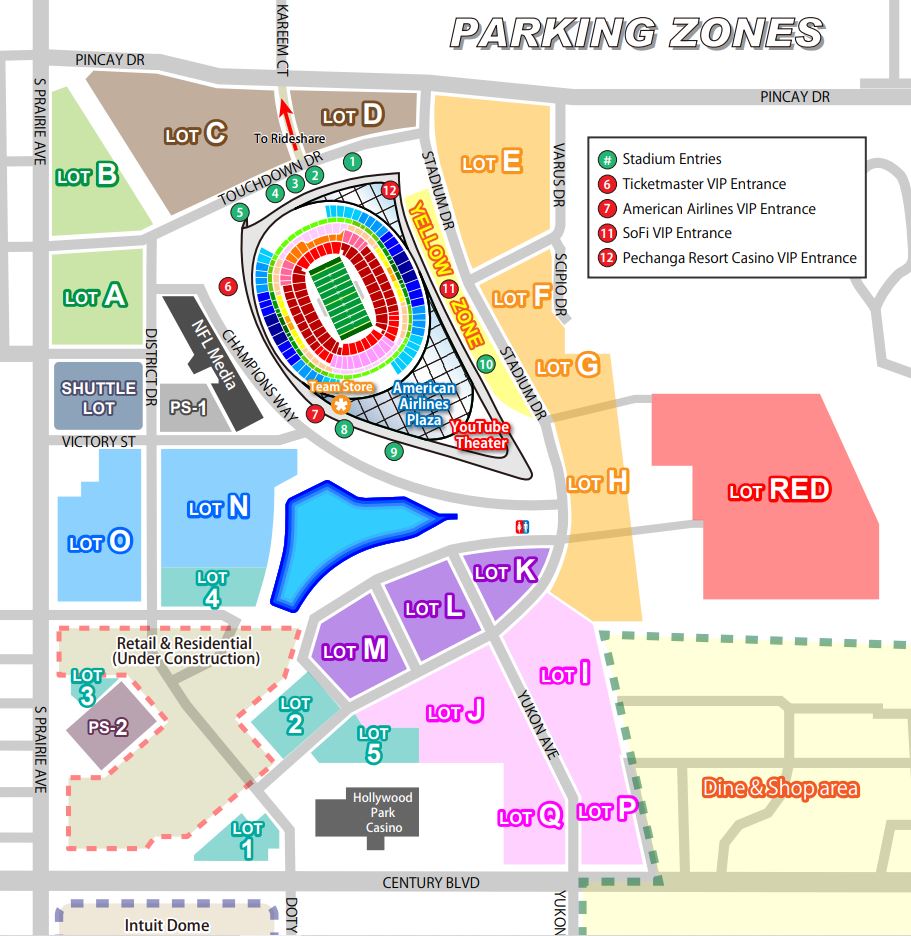 ● On Century Blvd.
On the south side of So-Fi Stadium, on Century Blvd. between Yukon Ave. and Crenshaw Blvd, you will find the following restaurants, fast food, and stores.
Food & Drinks
・Chili's ・Red Lobster ・In-N-Out Burger ・The Habit Burger Grill ・Carl's Jr. ・Wendy's ・Chipotle Mexican Grill ・Starbucks ・Panda Express ・Wing Stop ・Baskin-Robbins ・El Pollo Loco ・Del Taco ・Yogurtland ・Q Hawaiian BBQ ・Cold Stone ・Wienerschnitzel and more.
Stores
・Target ・Home Depot ・El Super ・ALDI ・Marshalls ・Ross Dress for Less ・7/11 ・Walgreens Drugs ・Costco and more.
● On the campus of SoFi Stadium
There is a park and some landmarks on the vast campus of Sofi Stadium. You can bring food and relax in the park or take a walk around the campus and enjoy the different views of the stadium from different angles etc.
Here are some ideas to help you have a good time visiting Sofi Stadium for the first time.
Tailgating
Tailgating is one of the most fun things to do before the game! The PINK Zone parking lot is dedicated to tailgating and opens 5 hours before kickoff.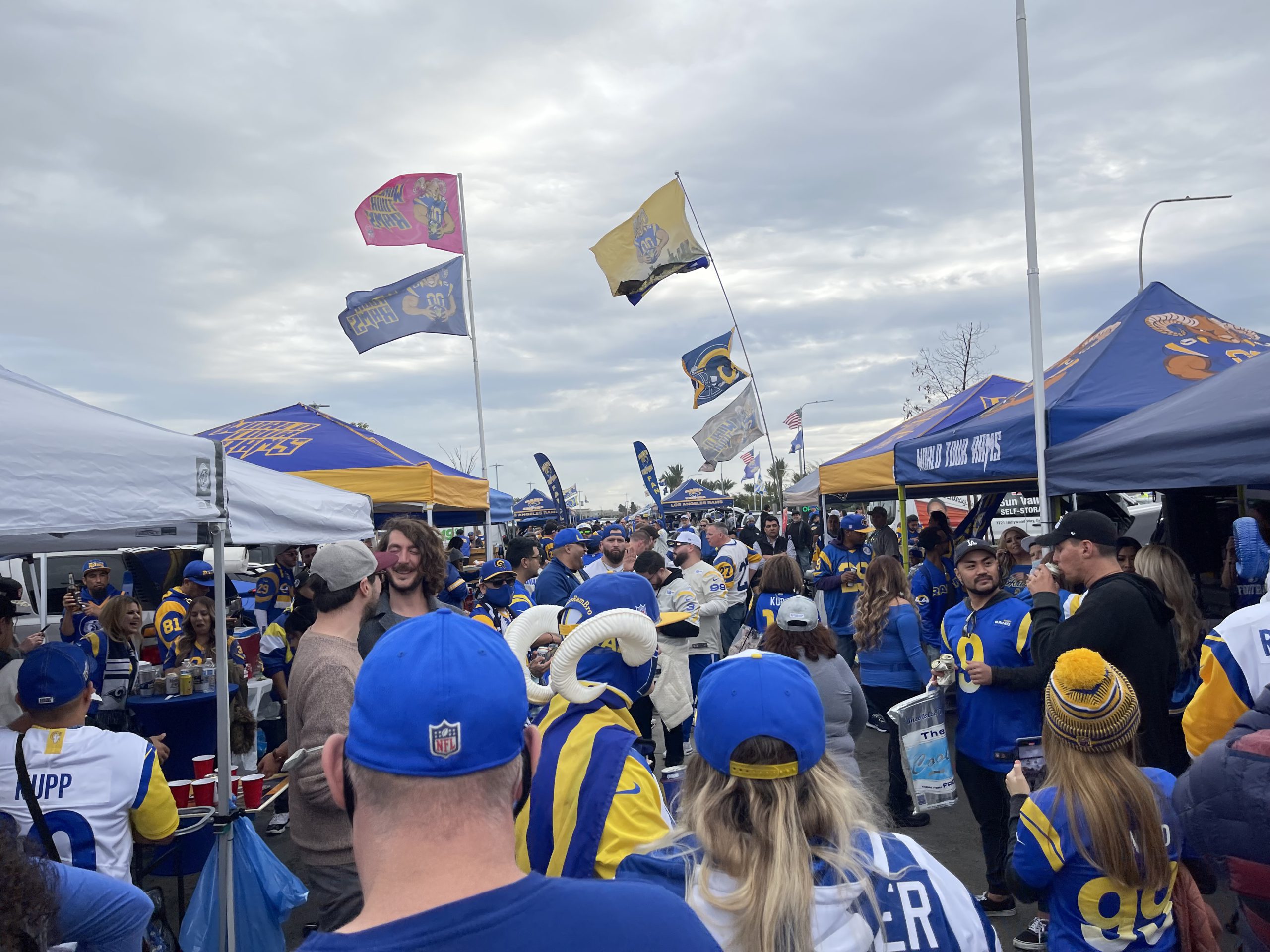 Lake Park
On the south side of the stadium, in front of gates 7, 8, and 9, there is a park with an artificial lake called "Lake Park," usually open to the public. The plants planted in and around the stadium are mainly from California and other countries with a Mediterranean climate.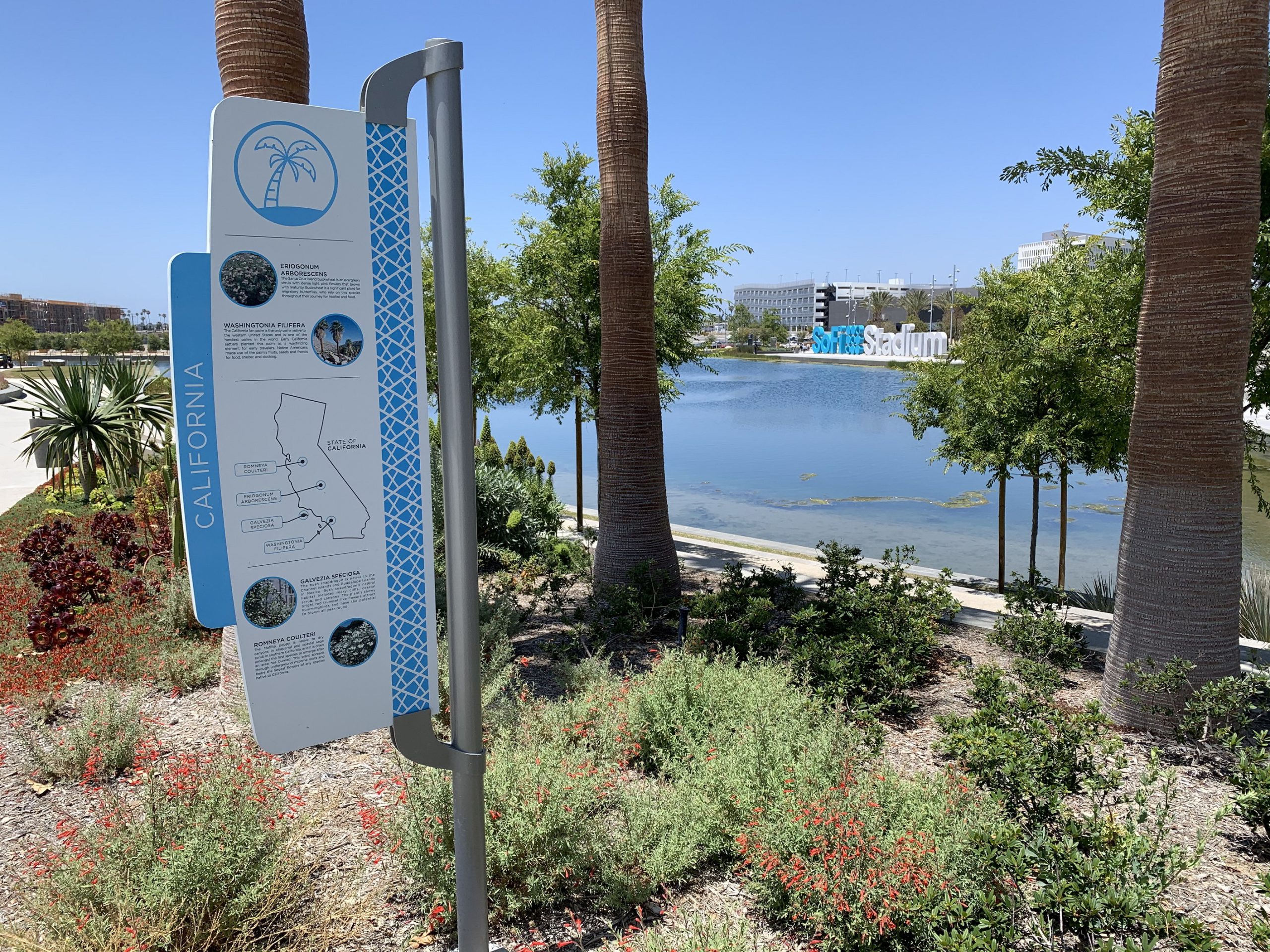 YouTube Theater
Sharing a canopy with SoFi Stadium is the 6,000-seat YouTube Theater. The main entrance to the theater, "American Airlines Plaza," can be accessed after entering the stadium on NFL game days. There you will find pre-game events and sponsor booths.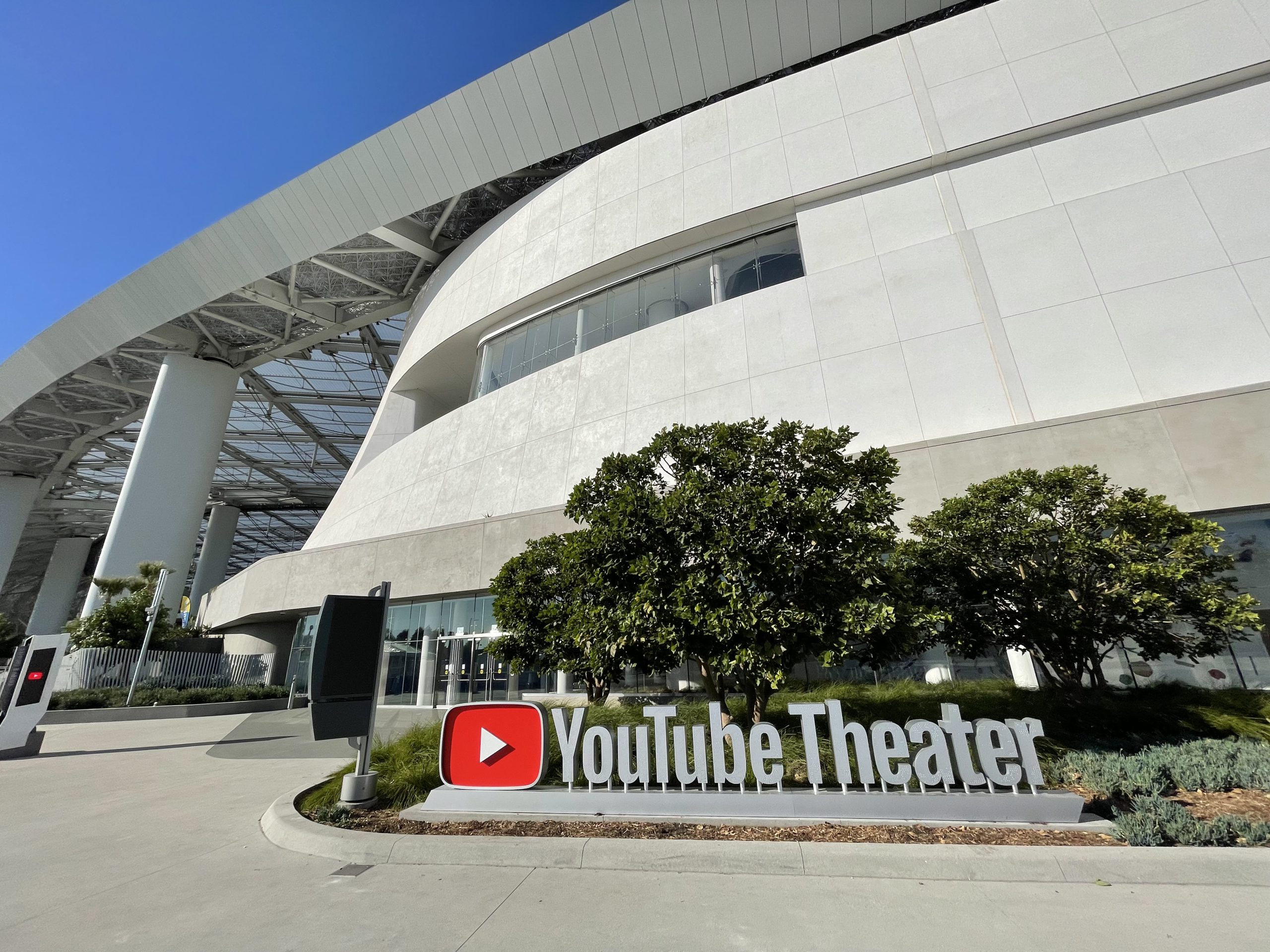 NFL Media Building
The large white building next to gates 6 and 7 at Sofi Stadium is the NFL Headquarters and Media Building, the new home of the NFL on the West Coast. Many studios inside the building to film for the NFL Network and other media productions. You can find a large "NFL" logo at the front entrance of the building and a small turf field for filming in front of gate #7.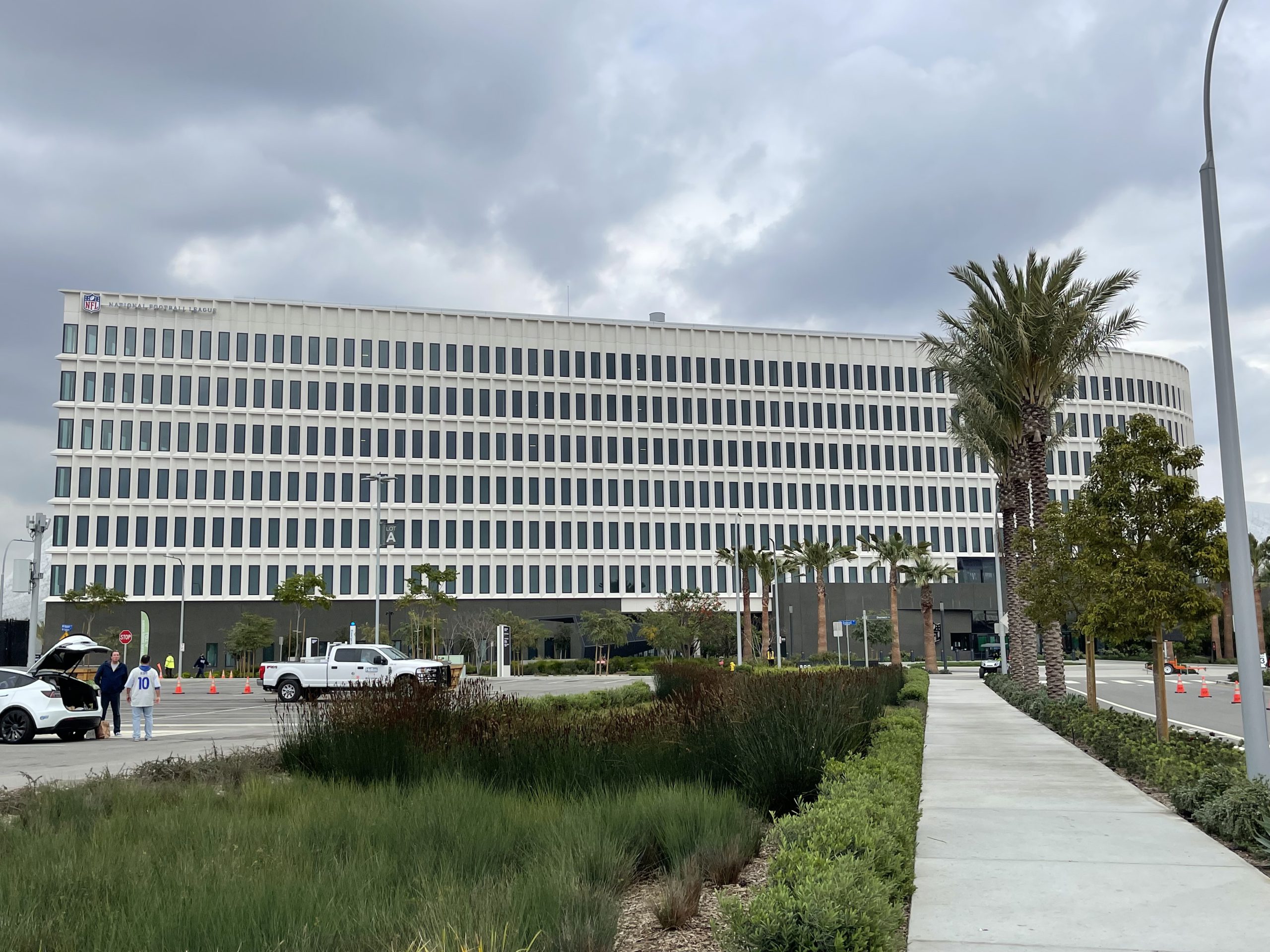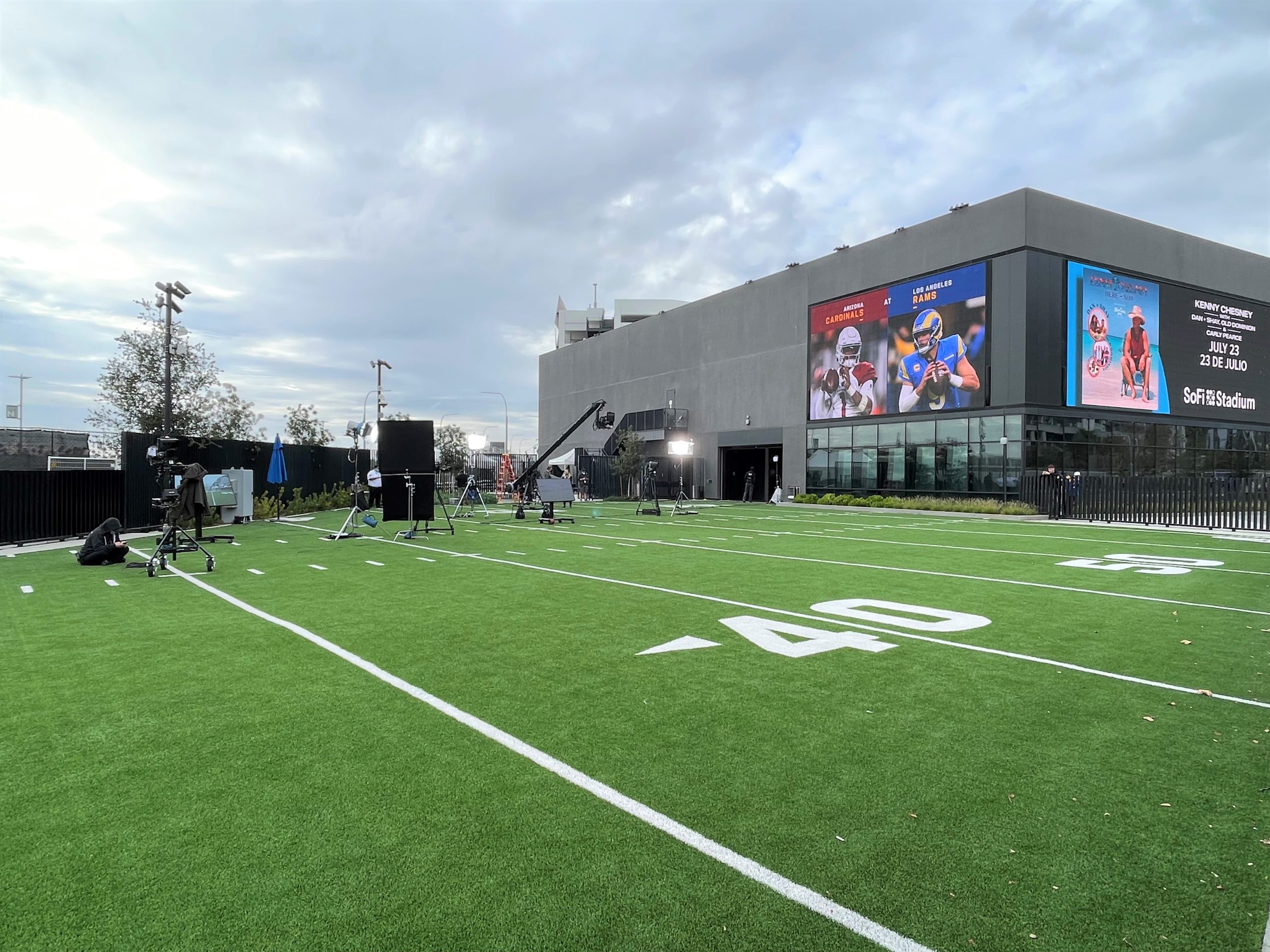 Giant "SoFi Stadium" logo and small logo signs
The giant logo sign of SoFi Stadium is located behind entrance gates 7, 8, and 9. There are also three smaller logo signs, so let's walk around the stadium and look for them.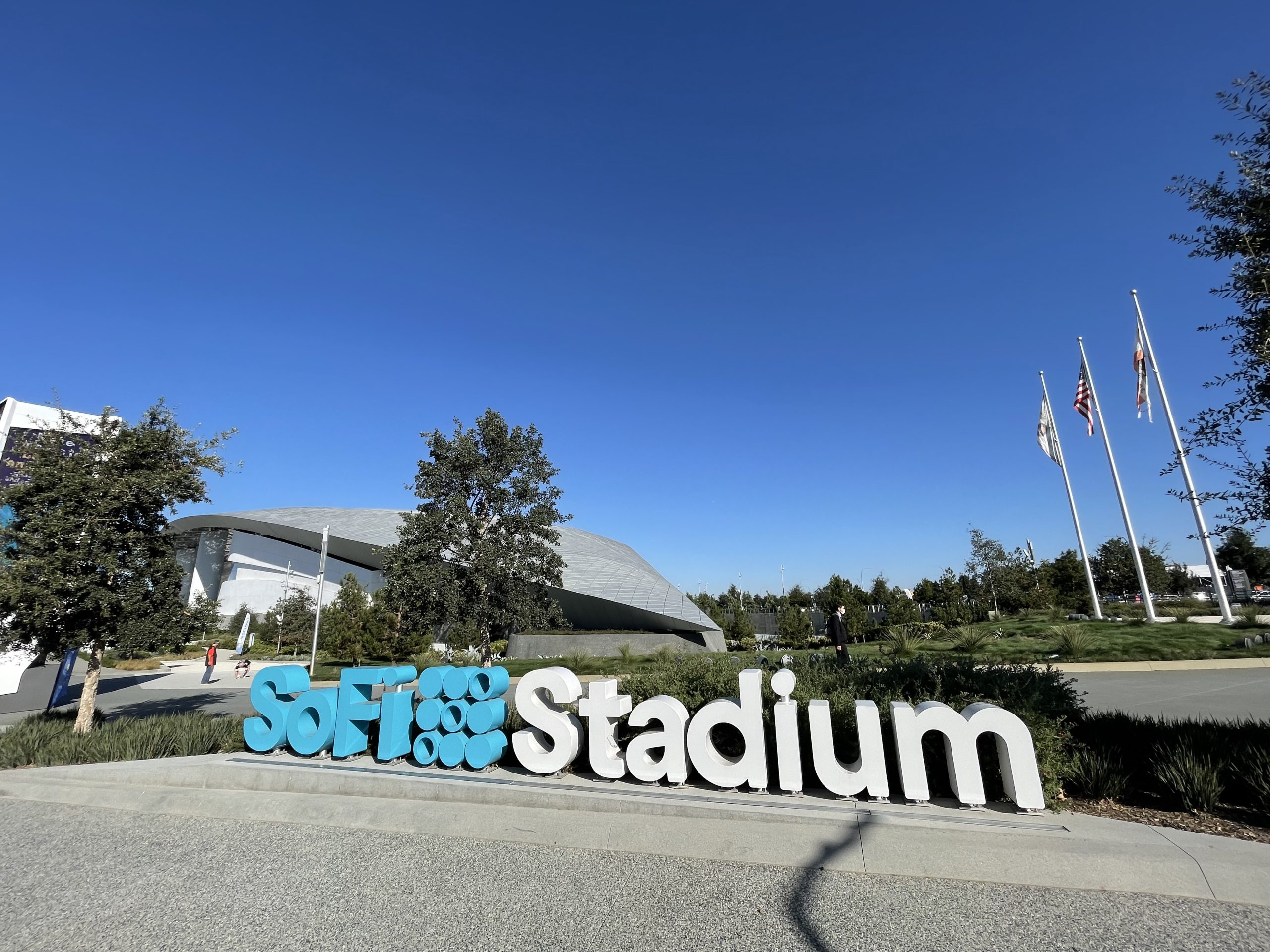 Restrooms
There are temporary toilets in the stadium's parking lot and public restrooms behind the "YouTube Theater" near entry gate #9.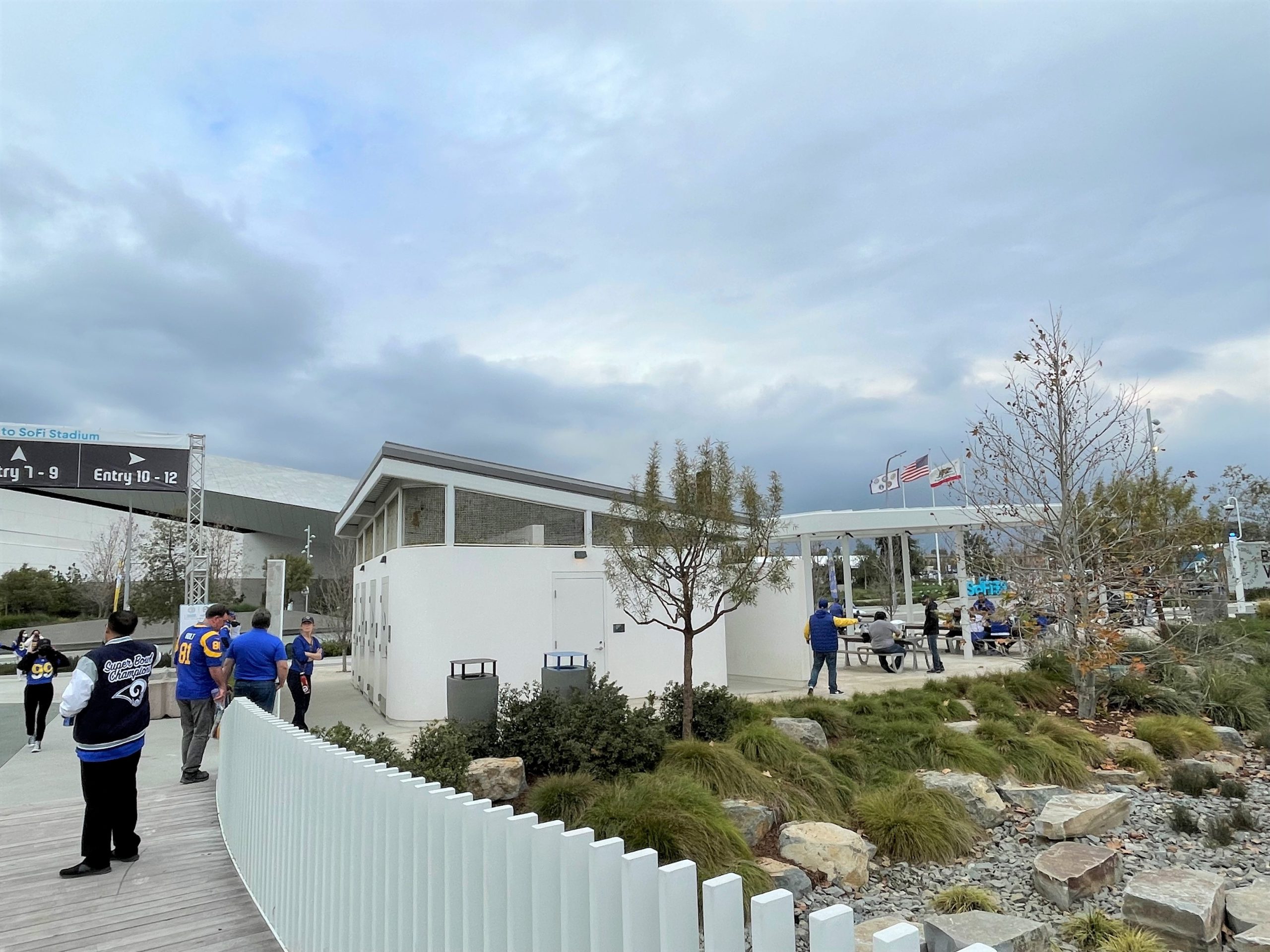 7-Eleven
Once you're close to the stadium, it's a long walk back to the PINK parking lot or Shopping areas on Century Blvd., but there is a 7-Eleven on the west side of the stadium on the corner Prairie Ave. & Arbor Vitae St. near Entry #6.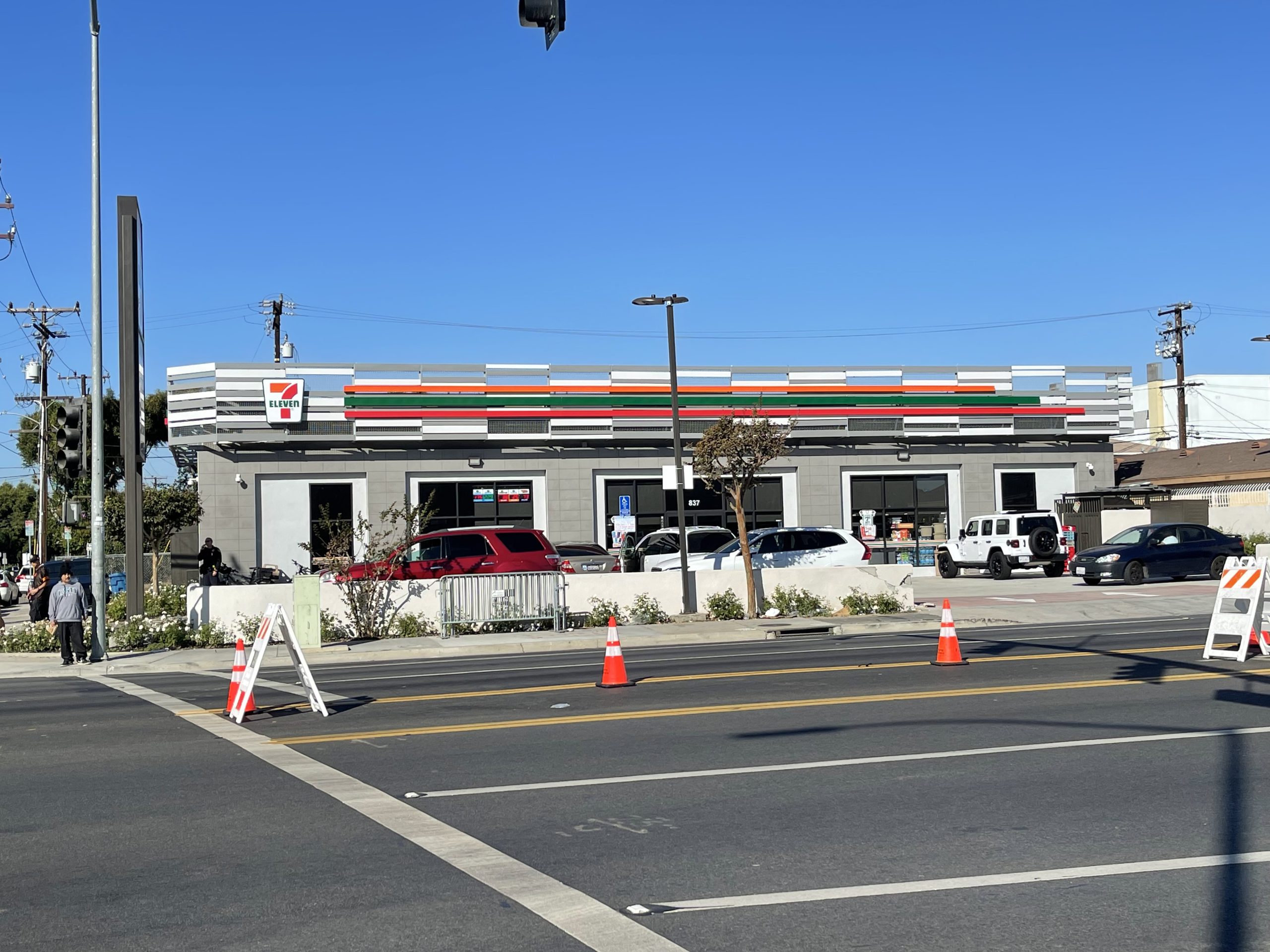 Bag Valet
There are mobile lockers at Sofi Stadium on NFL game days and selected events.
Mobile valet is located in front of Entries #1, #5, and #7. Each locker is very small, so large items will not fit. The cost is $20, and they are open for one hour after the game.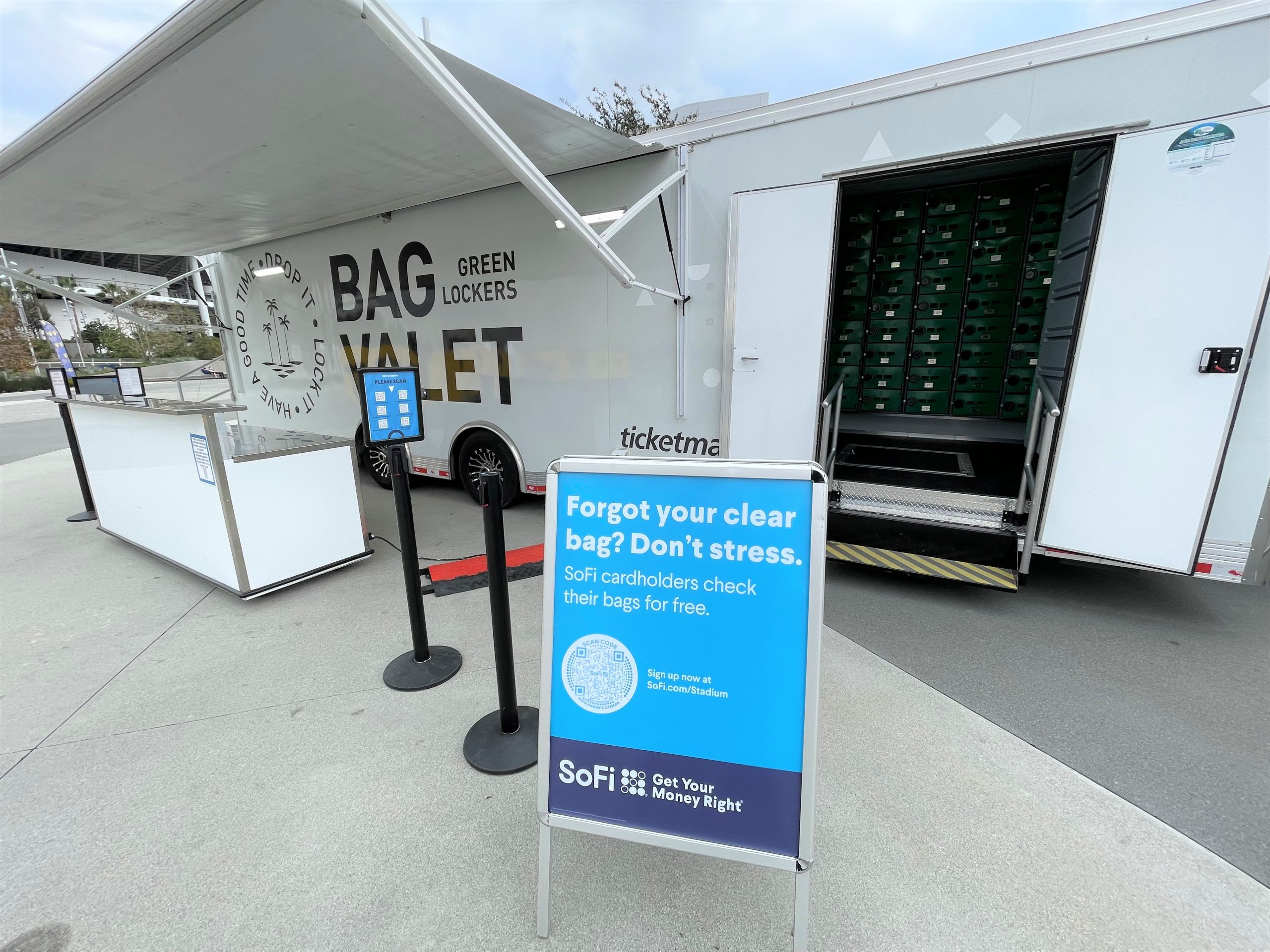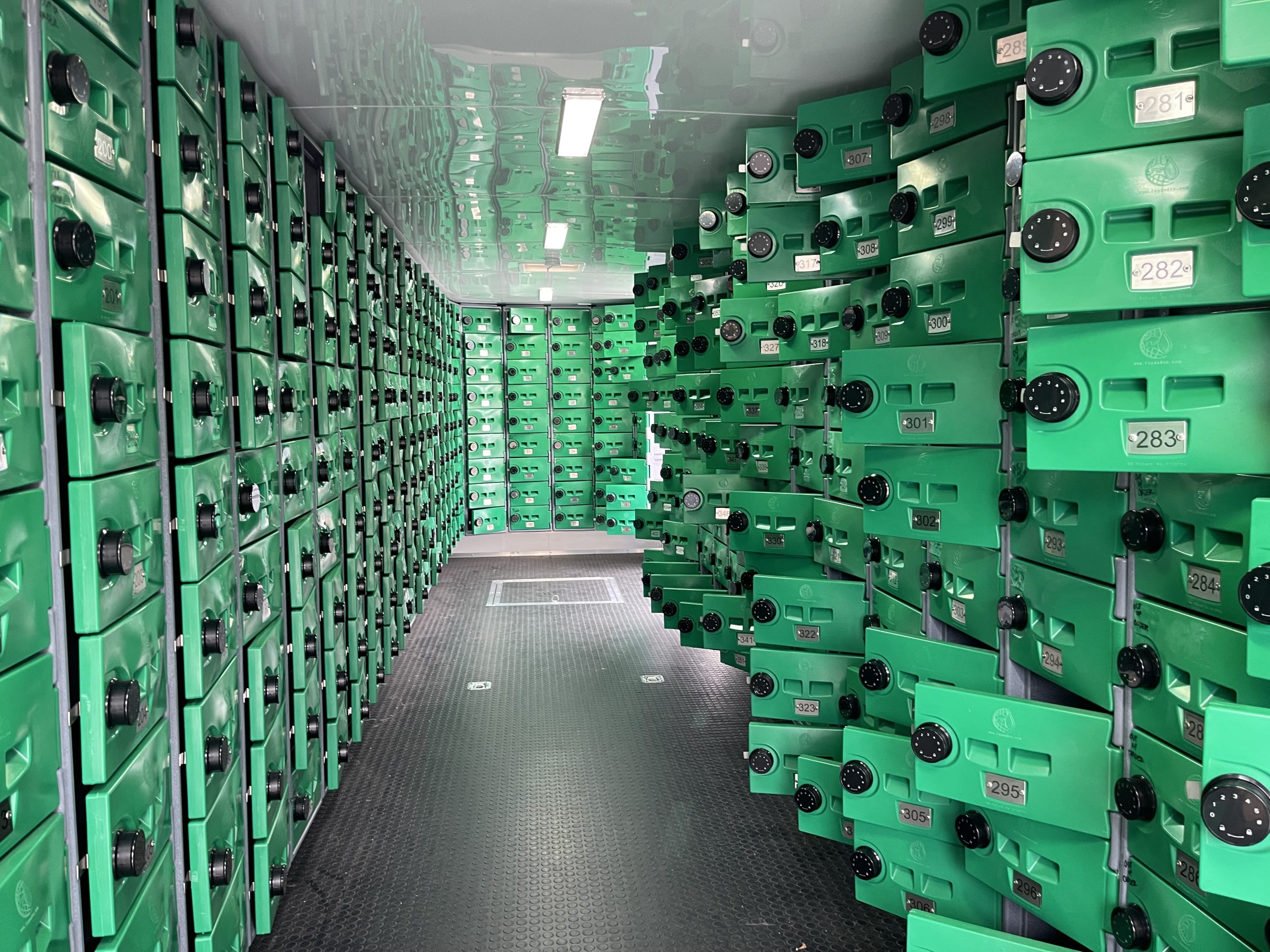 WiFi
As SoFi Stadium says, "Enjoy the world's fastest WiFi" you can use 5G high-speed internet inside the stadium. (You can catch the signal, if you are close to the stadium.)
In most stadiums, the connection speed slows down as the number of spectators increases and eventually becomes unreliable, but so far, we have not had any problems during the game. Network: #sofistadium
Tickets 
Entry to NFL games will not be accepted with printouts or screenshot tickets. Instead, new tickets come with a unique, technology-enabled moving barcode that refreshes every few seconds. Or, if you have that ticket in your phone's wallet, you're good to go.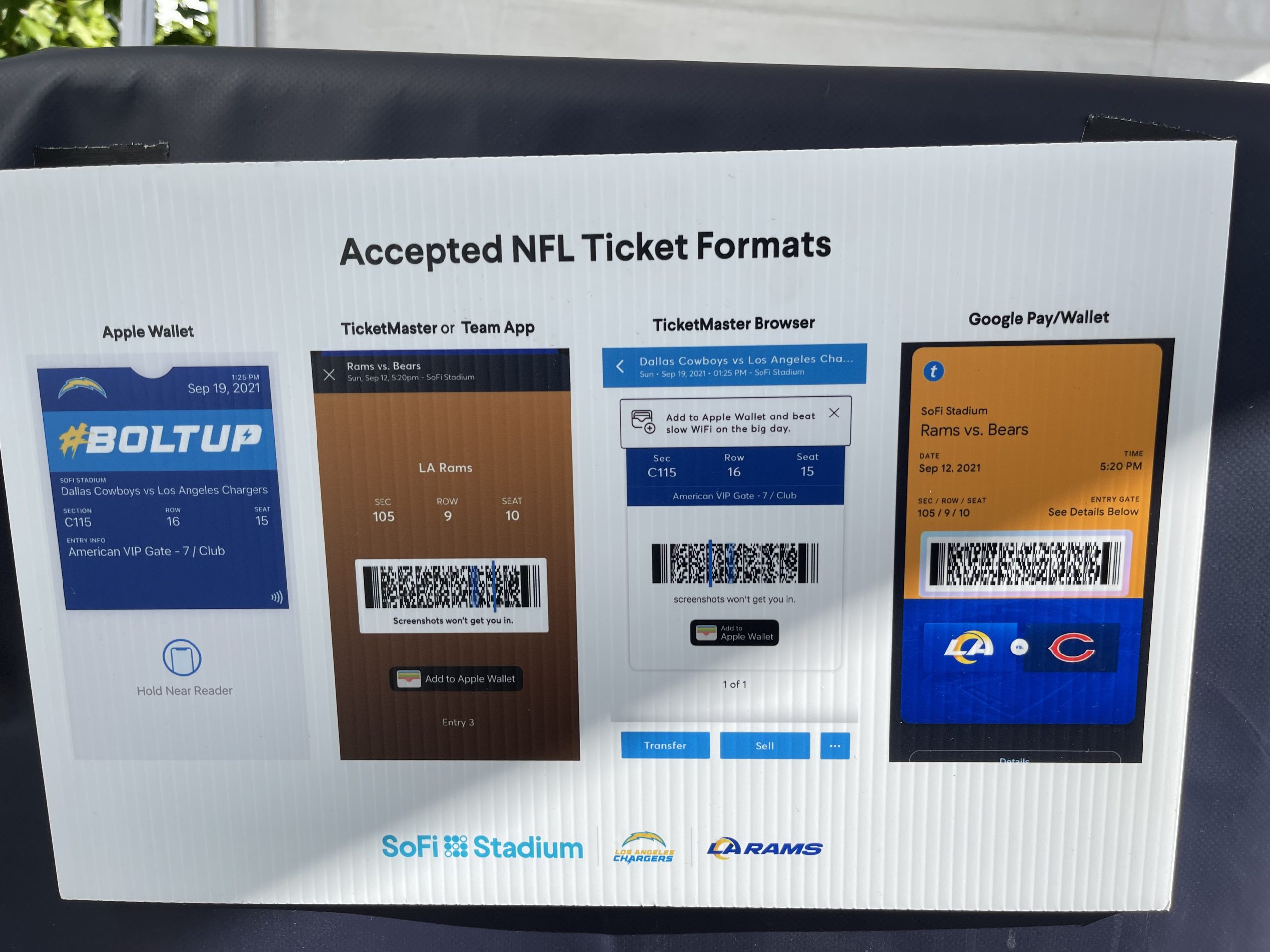 Wayfinding to your seats
There are 12 entries in So-Fi Stadium, and numbers 6, 7, 11, and 12 are VIP entries.
The newest of the NFL stadiums, SoFi Stadium, has 260 suites, many premium seats, club seats, etc. The stadium's structure makes it hard to get to your seat if you enter through the entry gate far from your seat.

If your ticket shows an entry gate #, I suggest you follow it. If not, please refer to the wayfinding guide below.
In addition, the 300-level and 400-level concourses allow you to walk around the stadium, regardless of your ticket level.
100 level
100 - 105: Entry 3
C106 -C110: Entry 3
VIP110 - VIP111: VIP Entry 6 - Ticketmaster VIP
VIP112 - VIP113: Entry 7 - American Airlines VIP
C113 - C118: Entry 7 - American Airlines
119 - 124: Entry 8
C125 - C130: VIP Entry 11 - SoFi VIP Entrance,
VIP130 - VIP 131: VIP Entry 11 - SoFi VIP Entrance,
VIP131 - VIP132: VIP Entry 12 - Pechanga Resort Casino VIP Entrance
C133 - C137: VIP Entry 12 - Pechanga Resort Casino VIP Entrance
200 level
200 - 206: Entry 3
207 - 214: Entry 3
C215 - C217: VIP Entry 6 - Ticketmaster VIP
VIP218 - VIP219: VIP Entry 6 - Ticketmaster VIP
VIP220: VIP Entry 7 - American Airlines VIP
C221 - C223: VIP Entry 7 - American Airlines VIP
224 - 226: VIP Entry 7 - American Airlines VIP
227 - 231: Entry 8
232 - 236: Entry 8
237 - 241: VIP Entry 11 - SoFi VIP
C242 - C244: VIP Entry 11 - SoFi VIP
VIP245 - VIP246: VIP Entry 11 - SoFi VIP
VIP247: VIP Entry 12 - Pechanga Resort Casino VIP
C248 - C250: VIP Entry 12 - Pechanga Resort Casino VIP
300 level
300 - 309: Entry 2
310 - 318: Entry 2
319 - 322: VIP Entry 6-Ticketmaster VIP Entrance
323 - 326: VIP Entry 7 - American Airlines VIP
327 - 332: Entry 10
333 - 337: Entry 10
338 - 345: Entry 10
346 - 349: VIP Entry 11 - SoFi VIP
350 - 353: VIP Entry 12 - Pechanga Resort Casino VIP
Standing Room Only: Entry 2
Standing Room Only: Entry 10
400 level
400 - 406: Entry 4
407 - 414: Entry 5
415 - 429: Entry 9
430 - 443: Entry 9
444 - 455: Entry 2
456 - 457: Entry 4
Standing Room Only: Entry 4  or Entry 9
500 level
504 - 506: Entry 4
507 - 514: Entry 5
515 - 525: Entry 9
526 - 529: Entry 9
530 - 539: Entry 10
540 - 553: Entry 1
Team Store: Gameday
Here is some information about the team stores on game day.
The team stores will switch all their merchandise between the Rams and Chargers games, so for example, you cannot buy Chargers merchandise at the Rams game. However, on non-game days, you can purchase the merchandise for both teams.
● The Equipment Room
The Equipment Room team store is located on the 200 level, behind sections 227-236, in SoFi Circle. There are two floors in the store, and you can find team merchandise and SoFi Stadium merchandise. The main store gets particularly crowded, so it's best to get there when the doors open or early.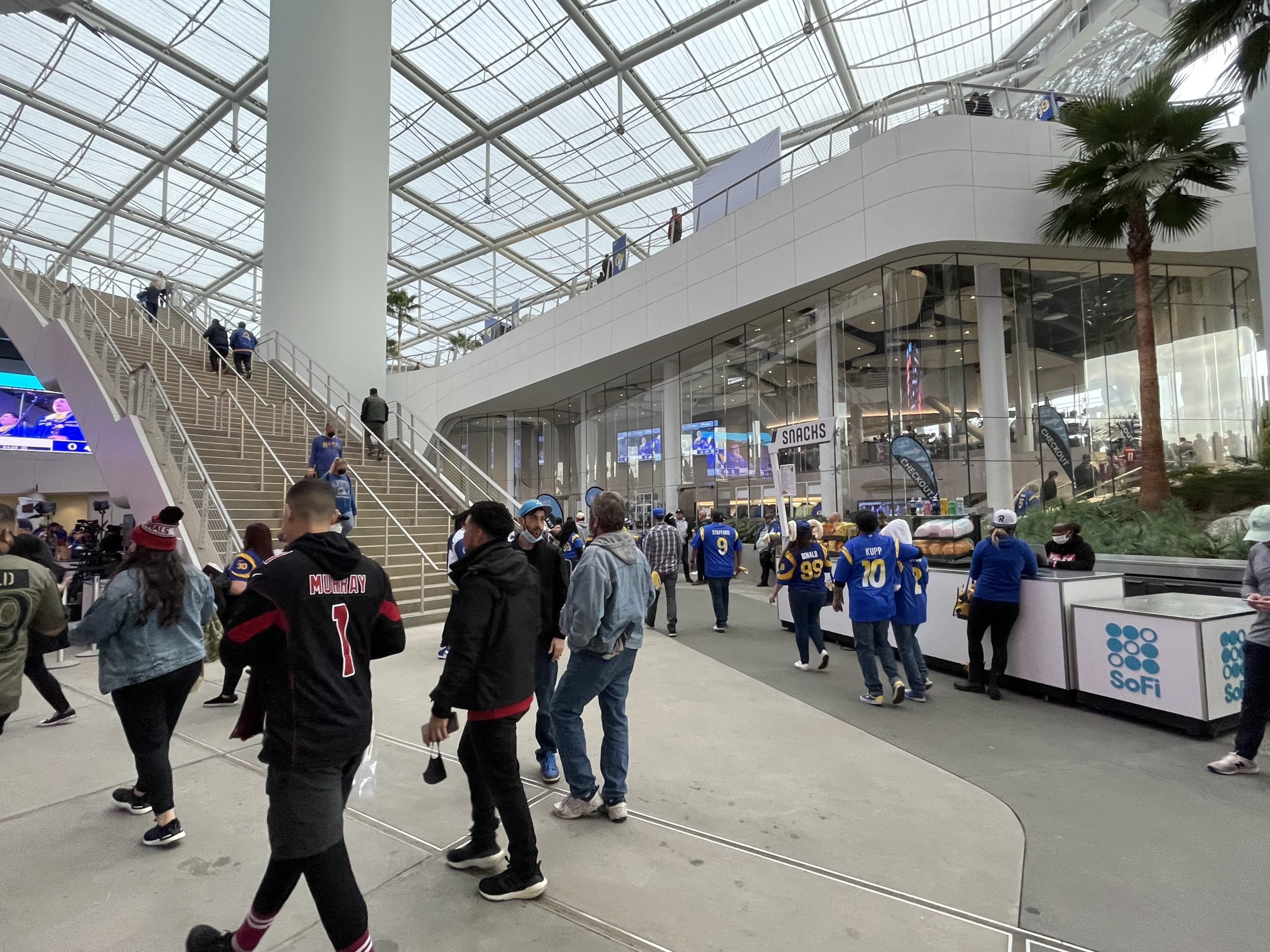 ● PRO SHOP
A team store called the "PRO SHOP" on each floor from 100 level to 400 level. If you are seated in the opposite endzone from the main store, you may also want to use this store. 

Locations:
100 level
Google Cloud Club & Suite
Near C106 entrance
Near C125 entrance
North End Premium Lounge
Section 104 entrance
200 level
Section 208
300 level
Section 307
400 level
Sections 406 and 452 /North Endzone
Section 420 and 435 /South Endzone

● MERCH
Some of these MERCH stores are on the 200, 300, and 400 level concourses.
Locations:
200 Level
Section 209 /North Endzone
300 Level
Near Entry Gate 2.
400 Level
Section 402 /North Endzone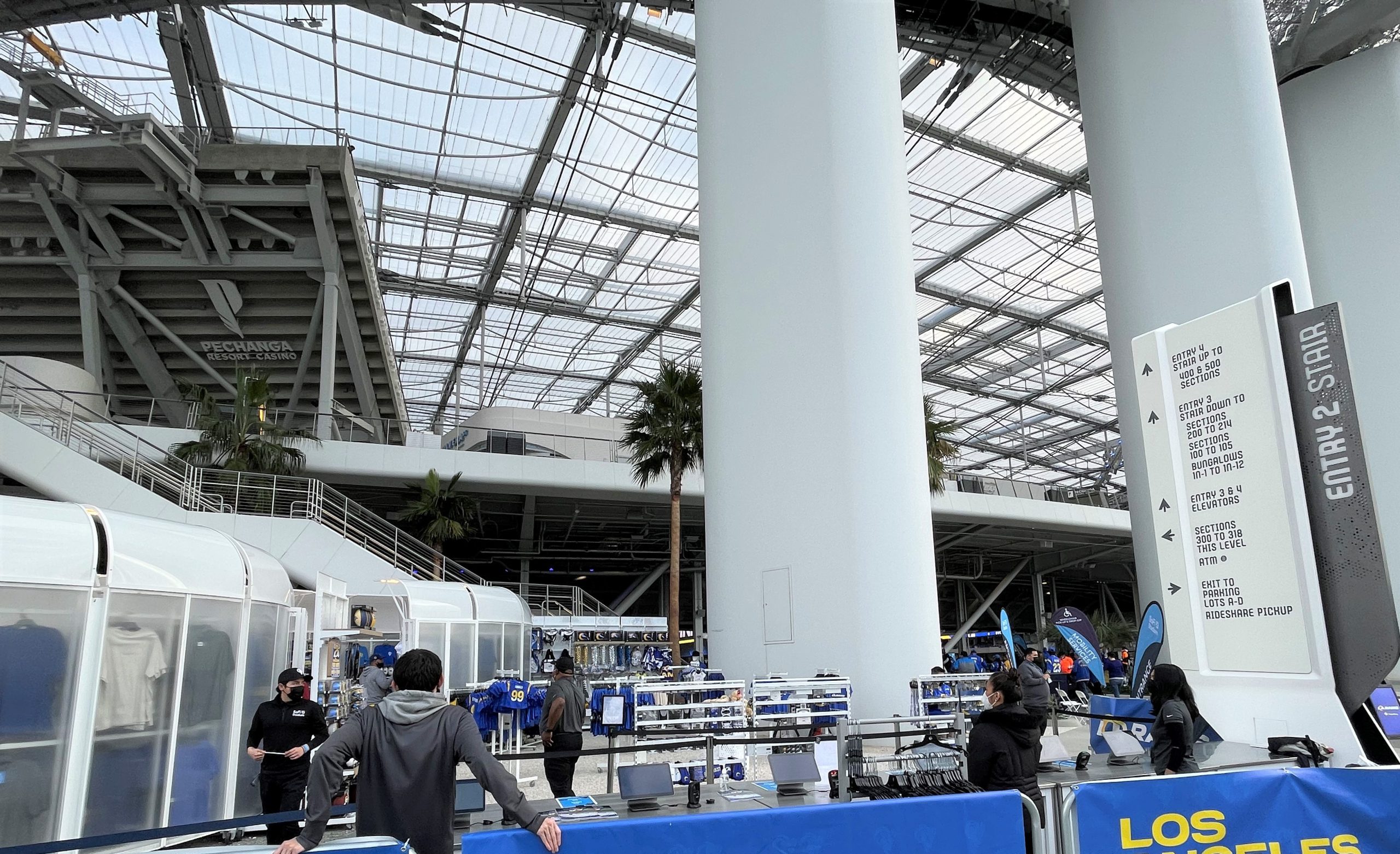 Concessions
Concessions SoFi Stadium has a variety of food and beverage options at Rams & Chargers home games and other events. The concessions are named after famous "streets" that represent Los Angeles, and each concession (Street) has a different food selection. 
100 Level (VIP, Club, and Suites)
Google Cloud Club has a wide variety of high-end food & beverages.
CHARRED: Grilled chicken, short ribs
SALUMI: Italian sandwiches, etc.
BBQ: BBQ chicken, pork, etc.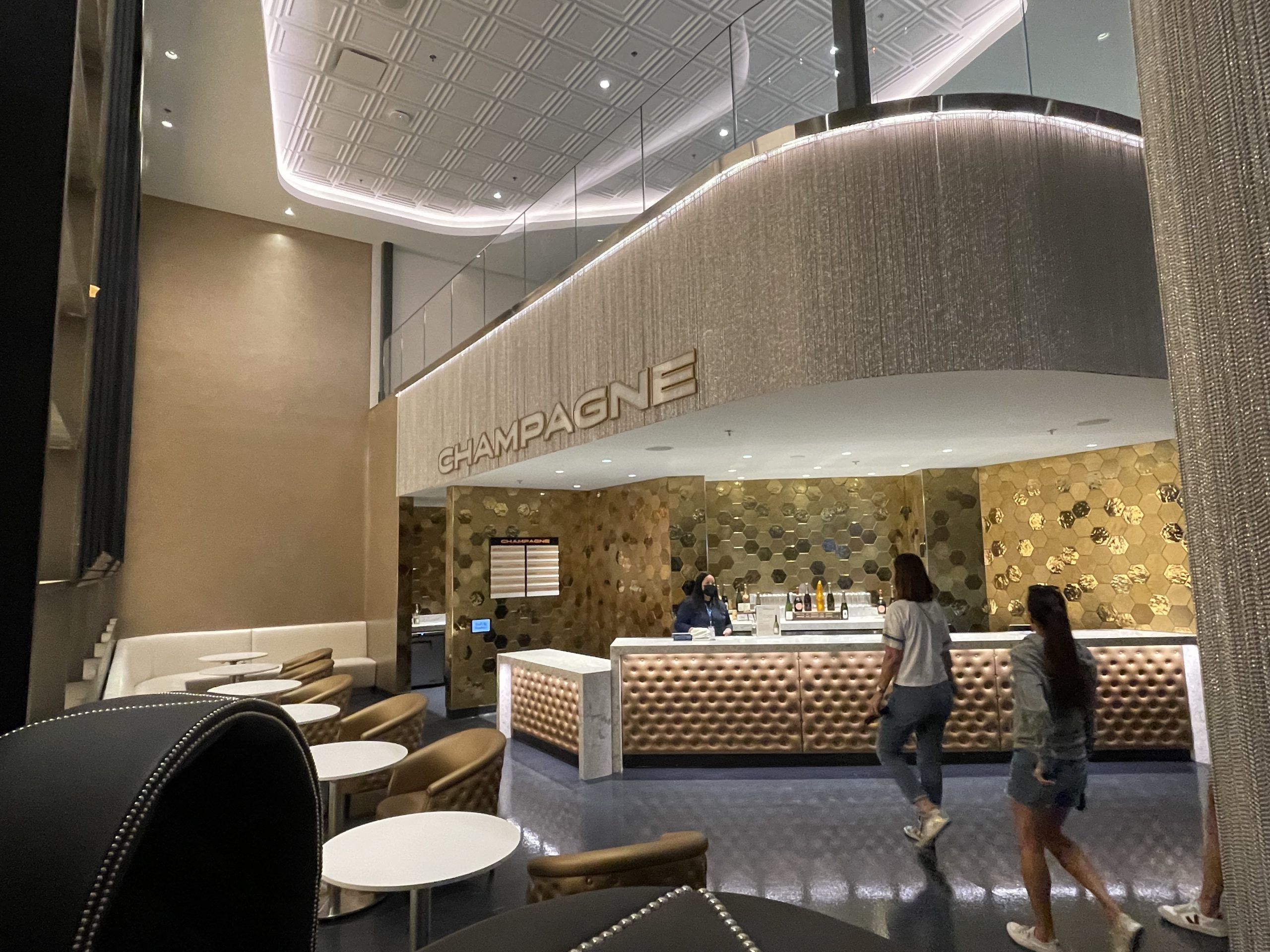 100 to 400 level
These concessions are located throughout the stadium.
N. FAIRFAX Ave.: Burgers, etc.
OLVERA St.: Burritos, tacos, etc.
SAN VICENTE Blvd.: Pizza, etc.
SAWTELLE Blvd.: Crispy chicken, etc.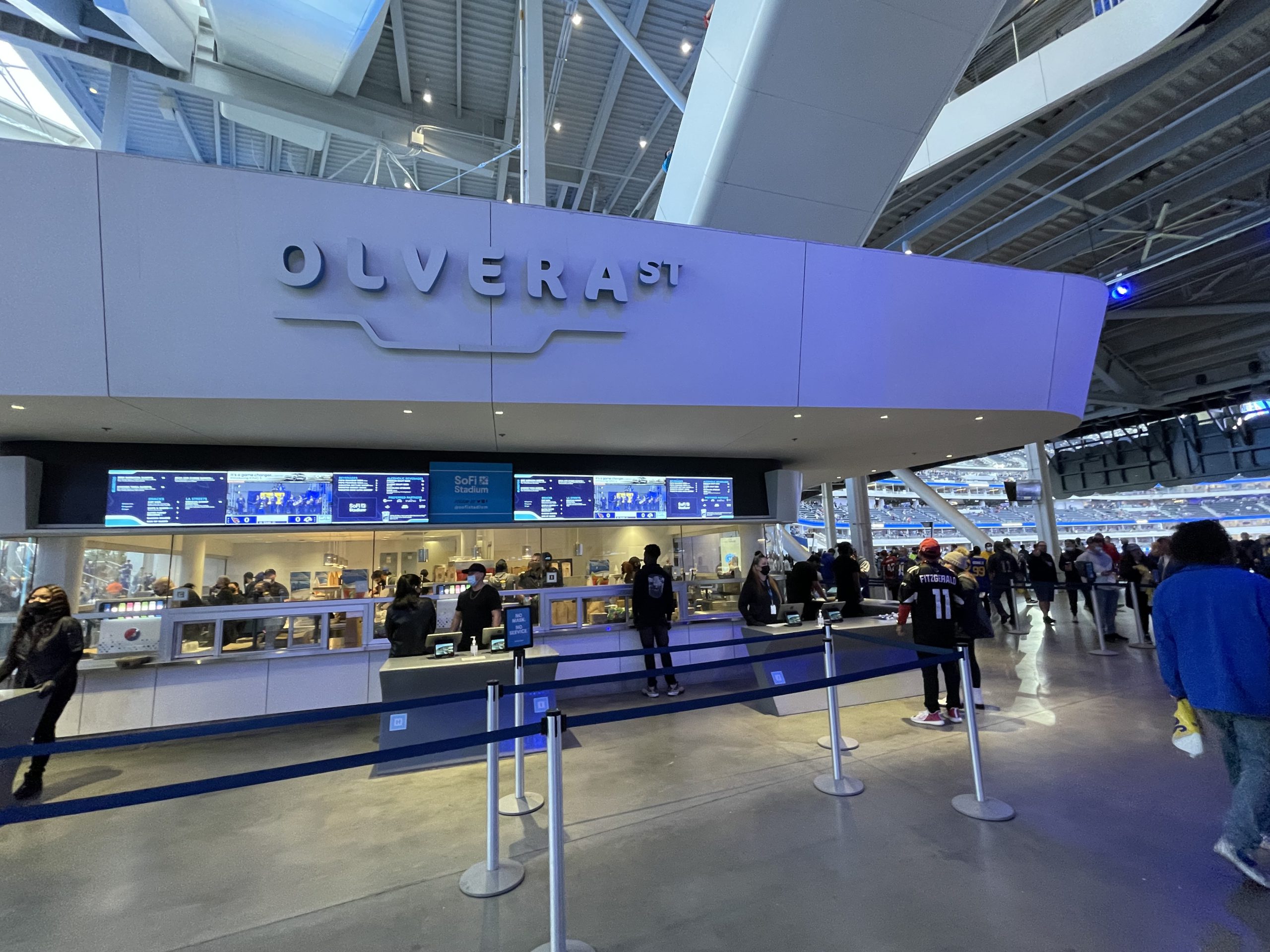 C200 to C300 level (Club seating)
There are concessions and a bar with several selected eats in the Club Lounge.